Tooling and Machine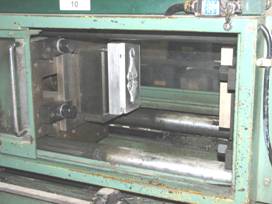 Our Largest Machine
This picture shows a mold in our 165 ton injection molding machine. The part is an anchor for an exercise machine. The part is molded from glass filled Nylon that replaces a metal fabricated part.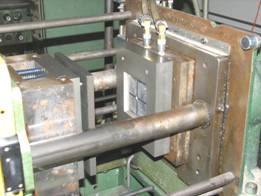 One of Our 40 Ton Arburgs
We have 4 of these machines and make about 70% of the parts we mold on these machines. They are old and paid for which allows us to do short run molding. New machines have to run 24/7 to pay the payments and make a profit.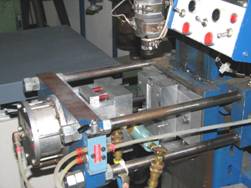 Our Shop Built Manual Machine
This machine was built over 30 years ago in our shop. It makes it possible to tool and mold parts very inexpensively. The mold in the machine is a dual core pull mold that was built for $ 1750.00 12 years ago and still runs today.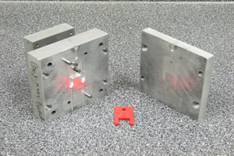 Very Inexpensive Mold
Built 7 years ago for $ 400.00 this mold makes a tool used in changing the blade in a shop tool. It is molded from ABS. It is a low volume part that is still molded today. It runs on our shop built manual machine.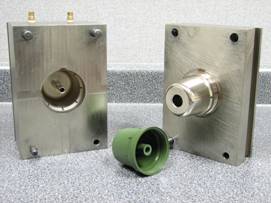 They Said It Couldn't Be Done
This is the top half of a screw together Radome. Other shops turned it down because it couldn't be done in the time frame and within budget. Others said it just couldn't be done. The top has an internal 1 ½ inch thread and is made of Xenoy. We had to make a special wrench and nickel plate the mold to remove the part from the mold.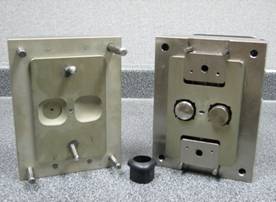 Slide Mold
This a is double slide mold. The slides move when the mold opens to with draw pins in the side of the part for screws that retain it in an extruded tube. The part is a bearing that is used in an exercise machine. The tool is hard anodized for long life. The part is Acetal CoPolymer.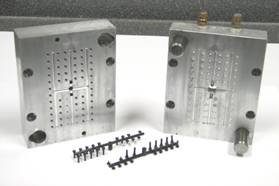 Multi Cavity Mold
This mold makes 62 "n" gauge railroad car truck pins. They hold the wheel assembly on the car. Two pins per car 5000 cars per run takes a lot of pins. They are molded from Acetal CoPolymer in two different diameters and lengths.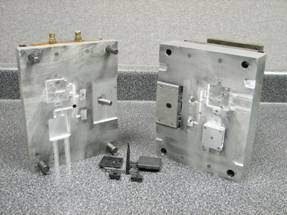 Family Mold
All four parts of an assembly are molded in this mold. The two small parts are a sensor housing and LED holder. The two larger parts are a base and cover. The cover snap fits on the base. Molded from 30% glass filled ABS. The slide provides two holes at right angel to all other holes for mounting the sensor.