Injection Molded Parts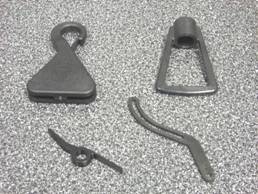 Metal Replacement Parts
The top two parts are glass filled nylon and replace die cast metal parts. They are part of an exercise system. The Lower right part is made of glass filled ABS. It is a bracket for maintaining position of a medical device. It replaces a plated machined brass part. The lower left part is a spring molded from polypropylene. The spring tension can be adjusted by changing material or material grades.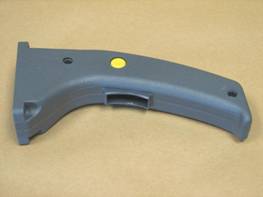 Chop Saw Handle
This handle is larger than our usual size limit but was made possible by making a mold for the left side and one for the right side. The material used is a super high impact grade that breaks just short of damage to the motor housing. The yellow safety button is made in a separate very inexpensive mold.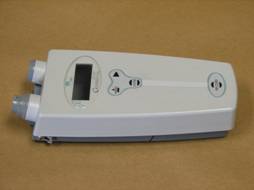 Mobile Patient Cardiac Monitor
This monitor is made of 10 different parts in five molds. It is molded using PC/ABS fire retardant material. Assembly included precision machine work, gluing, and riveting of battery terminals. The project included the molding of soft rubber gaskets to make the unit submersible. At the start of this project it was months ahead of the competition. Our fast turn around made it more.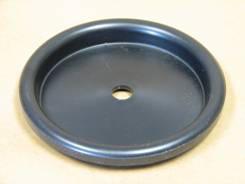 Shop Vacuum Filter Retainer
This part is made of High Impact Styrene. The mold is 15 plus years old and molds parts on a regular basis. It was built in an emergency be-cause of a supply interruption. We turned the tool around in a week. We are still making parts because of our quality and on time delivery.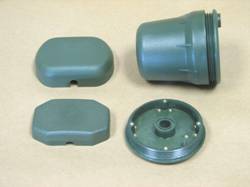 Radomes
The top right unit is a two piece radome that screws together. The lower right is the base half showing the threads and brass threaded inserts. The left two are GPS radomes, the top one is used on vehicles and the bottom one on personal. They are made of 15% glass Xenoy and are almost indestructible.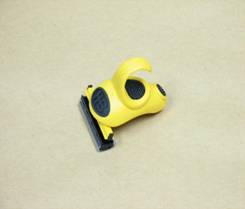 Razor
This is a razor for shaving bald heads. The inventor came to us with a hand made model. It uses two molds one for the yellow HIS parts and one for the 3 rubber gripper parts. We molded, assembled, packaged, warehoused, and shipped these razors for about two years before the customer took the product to China.
"n" Gauge Boxcar
Just 3.125 inches long this scale model car has all the detail of a full size boxcar. Even the rivets are there. Made from a series of photos shot by the customer using a 3 foot long scale in every photo allowing us to calculate the details accurately. It took four molds Body, Floor, Doors, and Undercarriage to faith-fully reproduce full size details as small as 1 inch.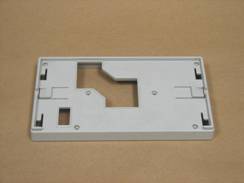 Bank Alarm Access Panel
Made from ABS this base plate is for a state of the art electronic alarm system for banks. In addition to the base plate mold an inexspensive mold was made to mold a special key for removing the front panel for servicing the alarm. The key is molded from acetal and the mold has produced more than a thousand keys.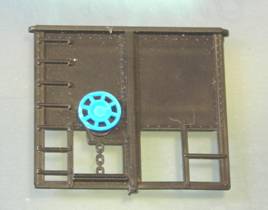 Micro Parts and Detail
This is the end plate of a "n" gauge coal car. It is .748 in. wide and .676 in. tall. The five links that make up the 3D chain are .034 in. wide and .046 in. long. There are 8 ladder rungs and 70 rivets. The brake wheel shown in blue to make it visible in the photo is .155 in. in diameter and has 6 rivets and a hex nut in the center. 1000 wheels way .225 oz.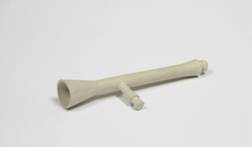 Thermometer Holster
Injection molded from Santoprene rubber this part is part of a roll-a-round instrument used by nurses in the hospital to check patient blood pressure, temperature, and blood oxygen. This part required a long core pull and at the press coloring of the material.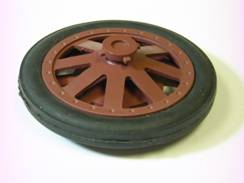 Model Car Tire
The rubber tire is 2.855 in. in diameter and is molded from Santoprene rubber. The wheel is molded from high impact styrene. It belongs to a 1/12 scale vintage car. The reason for the wheel being this color is because the original car was primed with red oxide primer before painting.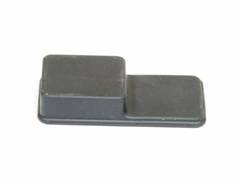 Rubber Radome
This rubber radome covers a GPS antenna on a fighter pilot ejection seat. We had to design a mold with no visible gate vestage. It is molded from Santoprene rubber that had to be modified at the molding press for greater impact strength. The radome also had to snap over the antenna base plate.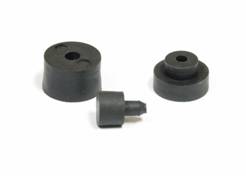 Rubber Bushings
All three of these parts are replacement parts for shop tools. The center part is a bumper and the other two are motor mount bushings. All three were made in very inexpensive single cavity molds. The material is 73 Shore A Santoprene. A Thermoplastic Elastormer.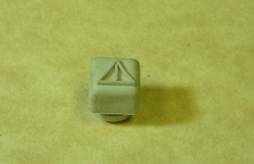 Push Button
This is the reset button on an E. K. G. monitor that is used by paramedics to send info to the hospital. The material is 64 Shore A Santoprene colored at the molding press. This mold is an inexpensive but complex mold.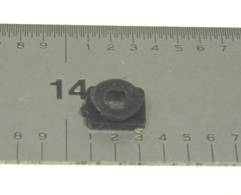 Grommet
Molded from Krayton rubber. It fits in a 1/8 in. hole in a piece of .010 in. thick brass and protects a # 28 wire's insulation from the sharp edge of the brass. Molded in an eight cavity mold it has to be taken out of the mold by hand.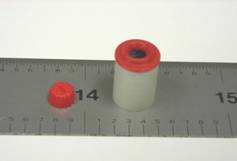 Mini Parts
Both parts are made from ABS. The one on the left is knob for a micro trim pot. The other is a 1/160th scale fast food trash can. Both parts were made in very inexpensive molds for our shop built manual injection molder.