Fabrication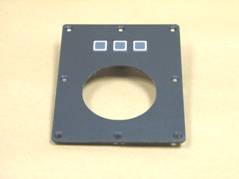 Track Ball Plate
Constructed of sheet aluminum and .010 in. Textured Polycarbonate sheet. The PC is screen printed on the back side and double face adhesive applied. The buttons are em-bossed so they are above the surface. The panel is used on a container ship to control the crane. Also has Military Applications.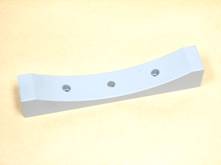 Radius Block
Machined from PVC plate this radius block is painted and textured. It is used on a astronomical telescope to mount the tube securely to the equatorial mount. It took 50% less time to machine than aluminum and reduced weight.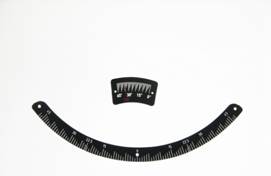 Scales
Both scales are made from .010 inch Poly-carbonate. They are screen printed then double face adhesive is applied to the back of the scale before it is die cut to shape. They both are used on shop tools for setting blade or fence angles.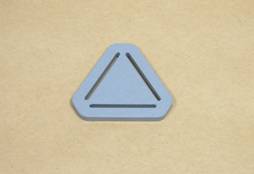 Keeper
Machined from .187 in thick ABS sheet this strap keeper or junction is use on an exercise machine. It is a prototype for a molded part. The customer used it on a demonstration unit and got orders for enough units to go directly to China for production.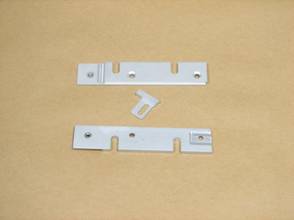 Brackets
These parts are brackets that hold components inside an electronic enclosure. They are machined from 6061 aluminum and clear anodized. They were machined on a NC milling machine and have stainless threaded inserts installed.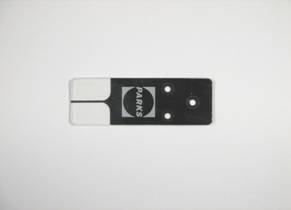 Indicator
Logo plate and RA indicator in one piece. Machined from .125 in. thick Plexiglass and screen printed on the back side. It mounts on a Astronomical clock drive and provides an indicator of where the telescope is pointed in the sky. It also serves as location for the makers logo.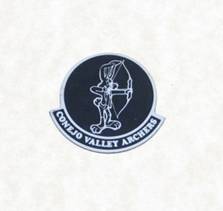 Logo Plate
Screen printed on .030 Styrene. Then double adhesive is applied to the back. Then it is die cut. The club applies it to trophies and equipment. Some club members put it on their bows or just about anything else they can think of.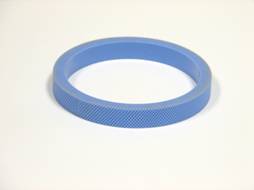 Drive Wheel
Cast from silicone rubber this drive wheel is used on an automatic soldering machine for making Solar Panels. It is knurled on the outside diameter. The mold casts three parts at a time. They are then parted on a lathe.